According to the Osservatorio Social Vip, a portal that studies the impact on social media of the Italians involved in the world of entertainment, sports, politics, and journalism as a phenomenon of communication and costumes, Valentino Rossi is still the only athlete to counter the dominance of football on social media.
As Stefano Chiarazzo, the author of the above mentioned portal, confirmed: "Valentino Rossi consolidated his primacy on Facebook and Twitter even if he lost ground on Instagram where Mario Balotelli is the leader followed by Andrea Pirlo".
Who are the most popular Italian champions on social media in 2016?
The first four positions are frozen. The Doctor, a nickname used by fans to call Valentino Rossi, leads the group. Mr. Rossi collected additional 1.1 million new fans reaching a total of 13 mln followers on Facebook. There are no news behind him, with Mario Balotelli, Andrea Pirlo, and Stephan El Shaarawy between the second and the fourth position. Probably thanks to the incredible performances of Gianluigi Buffon's team Juventus over the past five years, the goalkeeper of the Italian national team overtook the former-Juventus legend Alessandro Del Piero who remains ahead of Carlo Ancelotti, Giorgio Chiellini, and Claudio Marchisio.
The new entry in the social media world, AS Roma legend Francesco Totti, already sits in the 17th position of the rankings having collected 1 million fans on Facebook.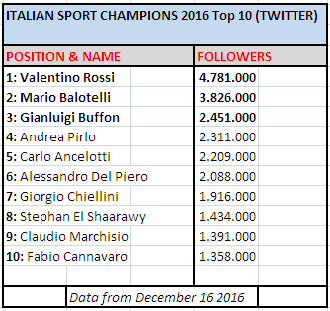 In the super-instant 140 characters messaging system Twitter Valentino Rossi leads the group of the most popular Italian champions on social media in 2016 as well. The worldwide users in love with the tweets seem to be in love with the motorcycler's phenomena too. Mr. Rossi sits in the first position of this ranking thanks to his 4.7 million followers. He is followed by Mario Balotelli and Buffon grabs the third step of the podium ahead of Pirlo, Ancelotti, Del Piero, and El Shaarawy.
Mario Balotelli's kingdom is definitely Instagram. The Italian striker, now playing in Ligue 1 with Nice, has 4.6 million followers on the most important photo sharing social media. Remarkable is Andrea Pirlo's performance on this ranking. The NYCFC midfielder collected 2.8 million followers more than the previous year and with a total 3.7 mln he jumped from the sixth to the second position of this ranking.