How much have agents gained in the Premier League? – I would say that the earnings collected last year by the agents of footballers in the Premier League were not bad at all. According to the data released by Football Association (FA), the expenses of the clubs in the United Kingdom increased by approximately 34%. From 130 million pounds in the 2014/15 season (this is the last time in which the FA published the figures of the entire season) to £174 million in the period between February 2016 and February 2017, which essentially includes the two sessions (summer and winter) of the 2016/17 season.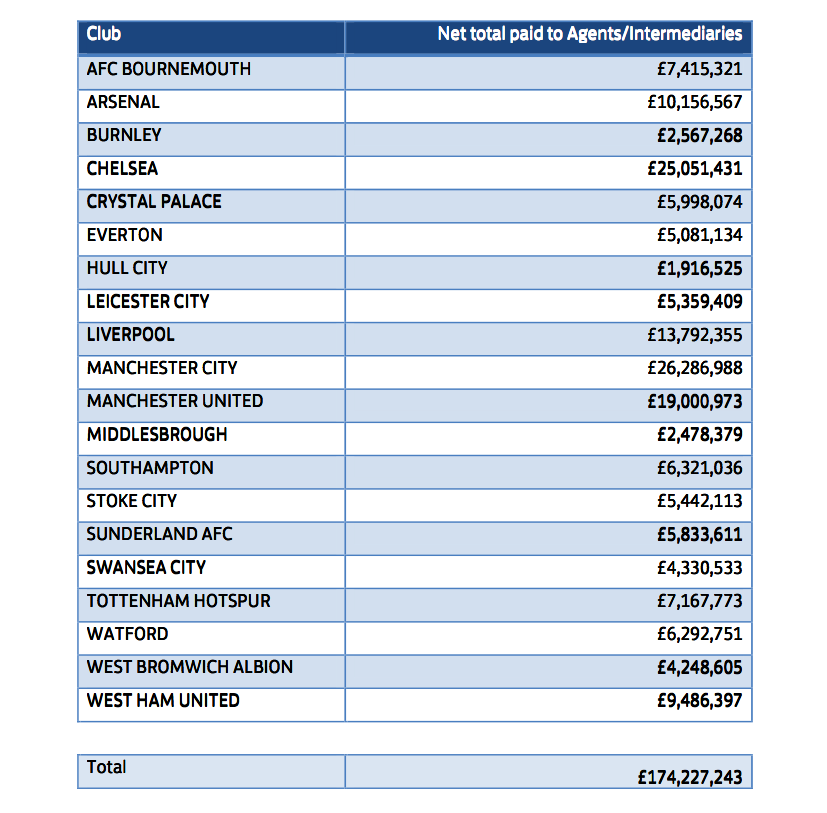 How much have agents gained in the Premier League?
Manchester City hit the record having spent 26.2 million pounds, Chelsea £25 mln, while Manchester United sits comfortably in the third place with £19 mln. Hull City  (the team that in the past January transfer market session brought the Italian defender Andrea Ranocchia to the Premier League) spent 1.9 million pounds and follows Middlesbrough (£2.4 million) and Burnley (£2.5 mln).
Over the last year, Manchester United sealed three acquisitions with Mino Raiola. The well-known agent brought Ibrahimovic, Mkhitarian, and Paul Pogba to the Red Devils, acting as an intermediary in the deals as reflected in the documents published by FA.
As for the other divisions of English football, the expenses for agents and intermediaries are on the rise even in the Championship (+ 62% to 42.4 million pounds spent; a record for Newcastle £10.4 million spent). Both in the League One and the League Two, the total spending has dropped compared to 2014/15. The League One has reached 3 million pounds (£3.1 in the last survey), while in the League Two £821,000 were spent (just over a million in 2014/15).