Juventus has taken the lead over Spanish giants Real Madrid at the top of the 2016-17 UEFA Ranking. Thanks to the amazing results of Agnelli's team on and off the field the bianconeri of Turin are currently first in UEFA's season rankings.
Mario Mandžukic and Dani Alves' goals were key for Juventus. These two jems allowed "La Vecchia Signora" (The Old Lady of the Italian football) to get access to the Champions League final match and to face the Cristiano Ronaldo and company.
Therefore, on June 3, Juventus will have the possibility to lift the most important trophy for clubs. If Allegri's crew will return from Cardiff with "the cup with the big ears", the club would bring its seasonal score to over 35,800 points in this special UEFA standings.
The 2-1 loss by Real Madrid to Simeone's Atletico Madrid in the return match sealed Juventus' first place relegating Real Madrid to the second place with 34,800 points.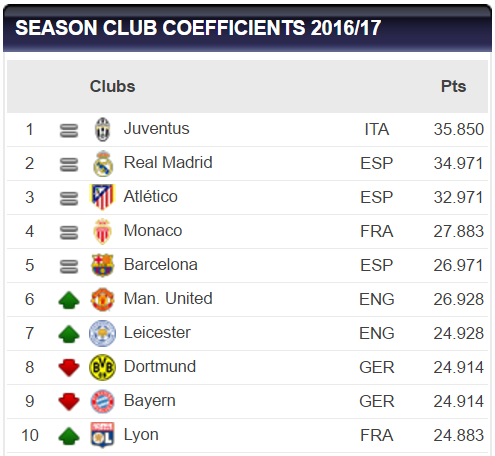 Juventus also gained valuable points in the overall club rankings even if it still sits behind Real Madrid, Bayern Munich, Barcelona, and Atletico Madrid. The next Italian on the list is Napoli (17th place), followed by Fiorentina (24), Lazio (33), Roma (37), Milan (41), Inter (45), Torino (77), Udinese (101), Sassuolo (103), Sampdoria (123).
There are no surprises regarding the ranking for federations. Spain still gets the lead ahead of Germany, England, Italy, and France.
However, this ranking will not be important in the near future. According to the new UEFA rules, from the 2017-18 season, the first four federations will have four teams directly qualified to the Champions League.