Atalanta has unveiled their new 2017-18 kits as the club from Bergamo gets ready for its return to Europe for the first time in 26 years.
The Europa League bound Atalanta has gone for a more traditional look this year. Nike is no longer the official kit supplier, replaced by Joma (who signed a five year contract). Gone is the mostly black kit from last season, replaced with the classic black and blue stripes. In the center is the club logo for all kits (white, green and black for the goalkeepers).
Atalanta remains without an official kit sponsor.
Ecco alcuni dettagli delle nuove maglie gara #Joma @JomaSport Vieni a scoprirle dalle 16 all'#AtalantaStore #AtalantaLife ?? #EuAtalanta ⚫️? pic.twitter.com/H8wX2ej9JM

— Atalanta B.C. (@Atalanta_BC) July 10, 2017
Luca Percassi, Atalanta CEO:
"We were convinced of this change by the return to the classic primary kit, and the high level of personalization of the remaining kits. We added a third kit to avoid any colour conflicts during the season with our opponents."
Joma administrator Alberto Lopez:
"We are delighted to be offered this opportunity to work together with such an excellent partner. Joma is the acronym of my brother's name, José Manuel."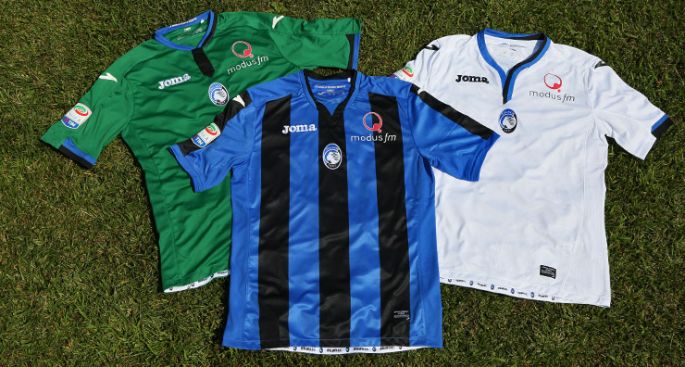 The kits are made of Interlock polyester, noted for its quality, elasticity and resistance. This tissue has an elevated level of breath-ability thanks to the latest generation of finishing that maximizes the transfer of sweat externally for rapid evaporation, keeping the body always dry.
On the hottest parts of the body where sweat is at its maximum, and where the player needs the most ventilation, the polyester was substituted with MESH, an elastic tissue with antibacterial treatment that is characterized by its micro-porosity, permeability and ventilation capacity.
Thanks to this ventilation, the increased air intake allows the body to remain always dry at a constant temperature, allowing players to perform at their best. The players will need to perform at their best especially in a season where they will be involved in three major competitions (Serie A championship, Italian Cup and Europa League).