Clubs across Europe's top leagues have seen an increase of nearly 100 million new digital fans during the course of last season, according to research carried out by RESULT Sports.
RESULT Sports analysed the community growth across the big 5 European leagues (Premier League, Serie A, La Liga, Bundesliga and Ligue 1) as well as the Dutch Eredivisie, the Turkish Super Lig and the English Championship (second division). New followers on each club's social media platforms, as well as the league's official accounts were tallied up, revealing some interesting trends across the leagues.
The biggest individual growth came in La Liga, where Real Madrid and Barcelona added close to 40 million and 31 million new followers respectively. La Liga's accounts also saw the highest increase in followers (20.8 million) among the leagues' official pages, leaving the Premier League (12.1 million) trailing in its wake. The other big 5 leagues were even further behind; the Bundesliga added 4.9 million new followers, Serie A just 1.4 million, and Ligue 1 a mere 790,000.
The results show just how far some leagues still have to go to broaden their appeal outside of their country's borders. Ligue 1, in particular, saw only two teams (cash-rich Paris Saint-Germain and Monaco, who enthralled fans with their attacking style as they lifted the title) add over a million new fans to their social media channels. In fact, Ligue 1's clubs have primarily restricted themselves to the major three platforms: Facebook, Twitter and Instagram. There was negligible growth on any other platforms and, while this largely extends to other leagues as well, major clubs' efforts to increase their brand exposure in Asia (particularly China) are reflected in a rise in followers on Sina Weibo, one of China's most popular websites. The Premier League saw the biggest increase (3.5 million), followed by the Bundesliga (2.3 million) and La Liga (1.5 million).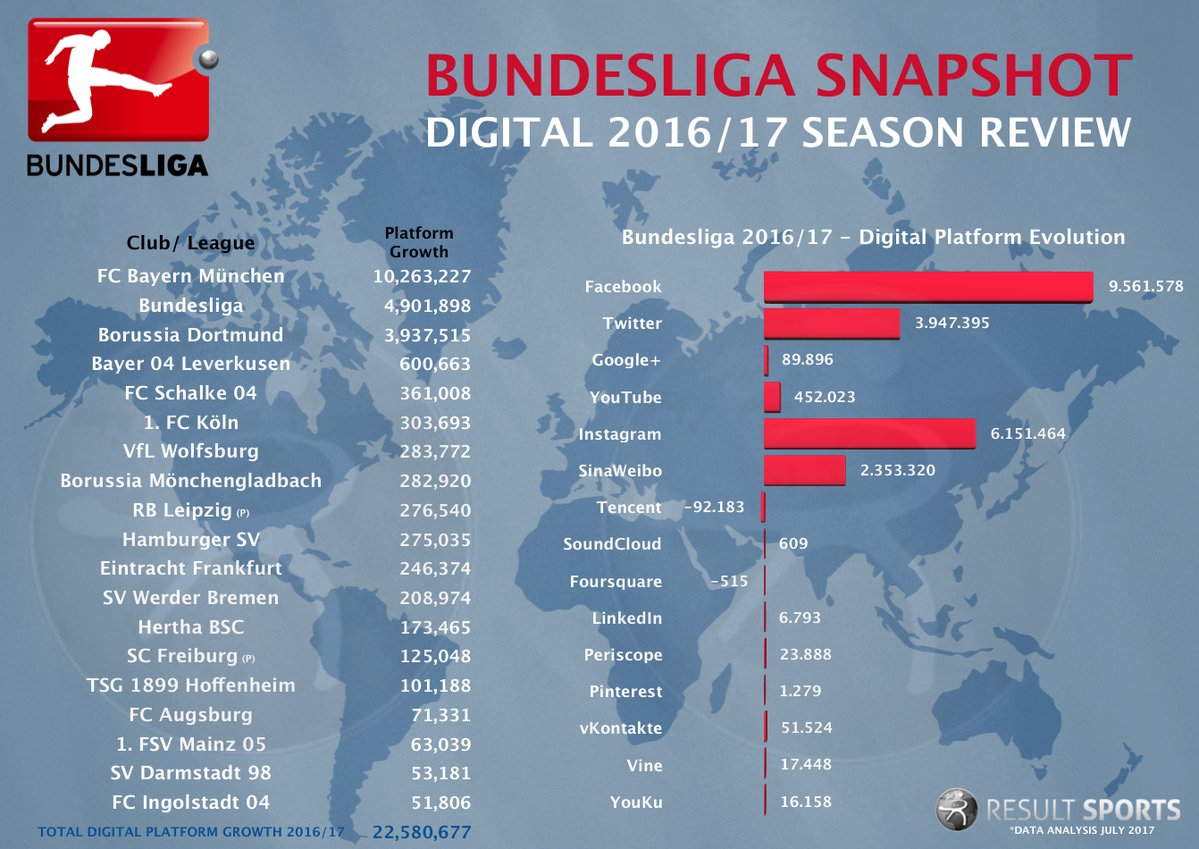 Bayern Munich's dominance on the pitch in the Bundesliga is also reflected in their social media figures. Over 10 million new fans followed the Bavarian giants on their various social media channels last season, more than double closest rivals Borussia Dortmund. Meanwhile, RB Leipzig – controversially bankrolled by Red Bull, and disliked in Germany for this ownership structure – saw just a quarter of a million fans subscribe to their social media channels as they ended the season in second place.
The Premier League provides an interesting contrast to every other league in the study. The most popular channels to follow clubs around Europe have tended to be Facebook and Twitter, but Premier League clubs saw a sizeable increase (over 23 million) in followers on Instagram during 2016/17. The increases on Facebook and Twitter were certainly not inconsiderable either, but there has been a concerted effort towards increasing followers on Instagram for some months now. As Digital Football explained in November 2016, "the [Manchester] United team have put substantial investment into Instagram with only Liverpool FC beating them on the sheet volume of media content posted on Instagram."
Serie A clubs, meanwhile, saw almost as many new followers subscribe to social media channels as the Bundesliga in 2016/17, though that is mitigated by the fact there are 20 teams in Italy's top flight compared to 18 in Germany. It is also no coincidence that over half the combined total were new Juventus followers (11.1 million). The Bianconeri won another league and cup double last season and also reached the Champions League final in Cardiff. Milan (2.3 million) followed in a distant second place, though the Rossoneri can expect this figure to increase next season following a highly successful summer transfer campaign and the introduction of innovative new digital media strategies under the new owners, while Roma's social media teams saw a further 2 million new fans subscribe to their channels. Unfortunately for the Giallorossi, they may have to watch their highly popular Szczesny Show broadcast in black and white next season if the Polish keeper – as expected – completes his move to Juventus.
Looking outside of Europe's big 5 leagues, the Eredivisie's historic trio of Ajax, Feyenoord and PSV all saw six-figure increases in social media followers. However, there is still great disparity between Ajax and the rest; the Eredivisie runners up have almost 2.5 million followers on Facebook, while the rest of the division have 2.25 million between them, who are mainly PSV (723,000) or Feyenoord (617,000) fans. 14 clubs have less than 100,000 likes on their Facebook pages.
There was greater growth in the Turkish Super Lig, with the biggest rises unsurprisingly being posted by Istanbul's big 3: Galatasaray, Besiktas and Fenerbahce. Social media blackouts are not uncommon in Turkey – the Telegraph has previously reported WhatsApp, Twitter, Facebook, YouTube and other sites were all blocked in the wake of political turbulence last year – but nonetheless nearly 6 million new fans followed clubs over the course of last season. The league was eventually won by Besiktas, who only just overcame the challenge of unfancied Istanbul Basaksehir. Despite their almost historic season, Istanbul's 5th club, known as Medipol Basaksehir for sponsorship reasons, added only 85,000 new followers to their social media accounts.
Looking at the Championship, league winners Newcastle United also led the way in the number of new social media followers. The passion with which English fans follow football outside the top flight is reflected in the digital community growth, with over 2.5 million new fans – more than the Eredivisie. The vast majority (58%) of these new supporters subscribed on Twitter, unlike the Premier League where growth on Facebook and Twitter was almost identical (both lagging slightly behind Instagram), indicating a difference in the social media strategies of clubs in England's top two divisions.