Roma's financial statement 2015/16 – Roma closed its financial statement with a total loss of €14 million. The previous financial year the club lost €41.2 million. The operational management shows revenues of over €219 million. These economic results are certainly driven by the participation to the UEFA Champions League in which the team performed quite well passing the stage group as well as the increasing earnings from the TV rights of the Italian Serie A.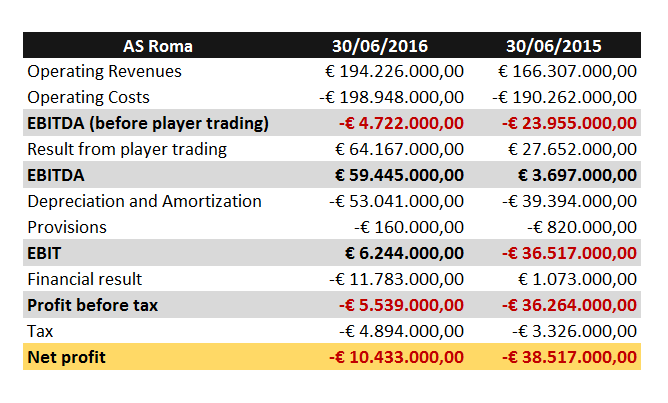 The growth in personnel costs, due to the investment in the registration rights of players and the bonuses accrued due to the competitive results obtained from the first team during the season, partially offset the positive effect generated by the increase in revenues.
In reference to the players management, the financial result is definitely positive and totals €64.2 million (€27.7 million in the previous year.) The capital gains from players' trading amounts to €77.5 million (€38.5 in the previous year.)  Roma's financial statement 2015/16 also shows that the earnings before interest, taxes, depreciation, and amortization (EBITDA) amounts to €66.3 million (€11.6 million.)
Roma forecasts that in the current financial year the club will register a loss of an amount inferior to €14 million, even if the 2016/17 financial statement will suffer the lack of revenue due to the non-participation in the UEFA Champions League.
Roma's financial statement 2015/16 – the debt is growing
Roma's financial statement 2015/16 highlights a worse net financial position. On June 30 2016, the club shows a negative financial result of €192.8 million compared to €142.3 million of June 2015.
The financial statement 2015/16 also shows that the parent company "Neep Roma Holding spa" has made payments for a future capital increase of €57.2 million. Thanks to this injection of cash the club was able to cope with its operating activities, including the payment of player's salaries and taxes.