The 2016 season of Major League Soccer (MLS) just ended with the Seattle Sounders winning the MLS Cup Final against Giovinco's Toronto FC. Despite new attendance record, and growing number of globally-recognisable stars such as Andrea Pirlo, David Villa, and Sebastian Giovinco, MLS' commissioner Don Garber, defines the league as still in "investment mode".
According to KPMG reasearch, despite the reported losses, joining MLS seems to be more competitive than ever. While new clubs, Atlanta and Minnesota, for the 2017 season, paid franchise fees of around $100 million, the league's president, Mark Abbott, affirmed last August that joining fees could go "as high as $200 million" in the future.  This would flag a substantial 200% increase in only 10 years, considering the modest sum of $10 million paid by Toronto FC back in 2007.
Why is MLS becoming so appealing?
Back in 1996, the first MLS season started out with all 10 founding franchises sharing facilities not designed for soccer. After 21 seasons, 13 out of 20 teams played their home games in soccer-specific stadiums and the number is expected to increase as Orlando City SC will move to a newly-built stadium in 2017.
In 2016, the MLS regular season attracted an average crowd of 21,692 per game, breaking all its records and resulting in outcomes comparable to Italy's Serie A or France's Ligue 1. The crucial expansion franchises model in driving-up crowds shows its efficient results by the fact that none of the top three teams by average attendance (Seattle Sounders, Orlando City SC and New York City FC) are founding members of the league. A noteworthy statistic about the new champions, the Seattle Sounders, is that they averaged over 42,000 supporters at their home games, despite being relatively new to the league (joined in 2009).
MLS differs from European leagues in terms of broadcasting rights, as it sells its national broadcasting rights together with those of the US Soccer Federation and, in addition, franchises are also allowed to license their broadcasting rights locally.
KPMG analysis states that the latest eight-year broadcasting deal (2015-2022), signed with three broadcasters (Fox, ESPN and Univision), is reportedly worth a combined $90 million per year. Although being even higher than the previous deal, when compared to European competition it's similar only to the broadcasting deal of the Dutch Eredivisie.
Due to this strong competition, MLS is pursuing a strategy to increase spectator attention, creating fan habits (appointment viewing) and initiatives such as Decision Day (last regular season round) and Rivalry Week (a round of fixtures where only "derbies" are played), which all provide additional commercial opportunities.
MLS' ability to engage a young and diverse fan base provides an attractive proposition to the league's commercial partners, despite lower viewership figures. For example, as a result of the league's eight-year deal with Adidas, the German firm became the kit provider for all franchises.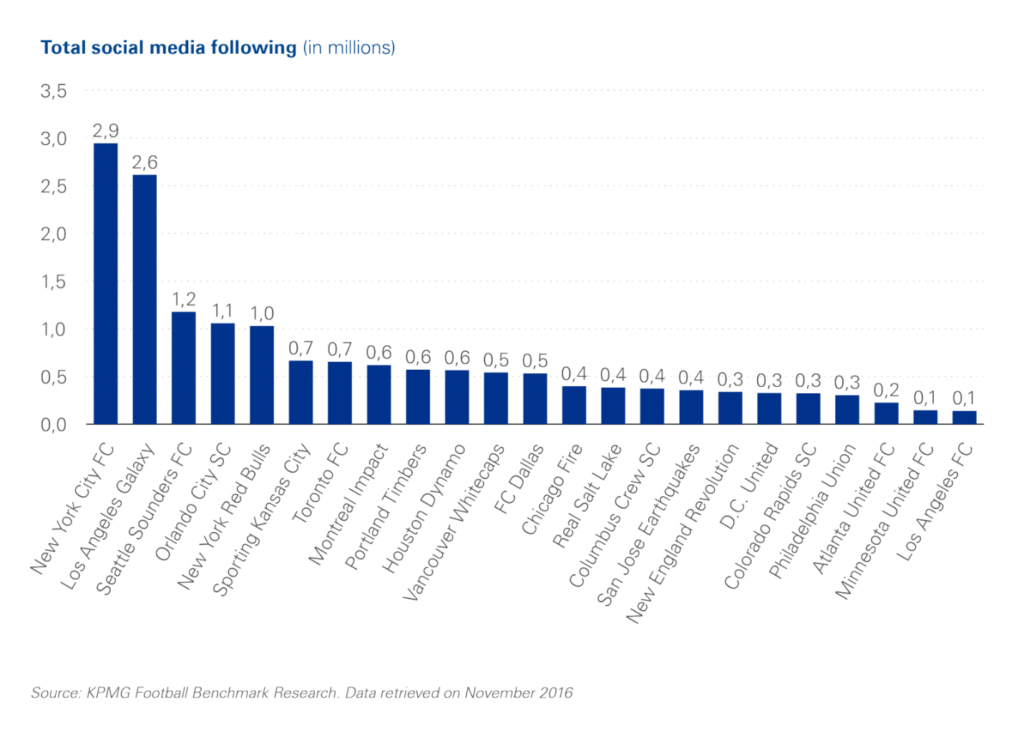 League structure and salary cap
The structures of other principal US sports have naturally influenced MLS. As with NFL or NBA, MLS is built upon supporting financial stability. This is achieved by operating a closed league where there is no threat of relegation and a salary cap that encourages efficient cost management.
However, in the case of MLS, the distribution of player salaries reveals a very large disparity. The top 20 highest-paid footballers in the league, representing just 5% of total players, earned over 43% of the combined payroll of all teams. This is aptly illustrated by the case of Kaká (the highest earning player) who had a higher salary in 2016 than the total payroll of 14 of the 20 franchises.
The new expansion franchises, the continuous arrival of household names, the upward trend in average attendance and the growing international recognition demonstrate MLS' potential for further growth in the years ahead. However, while MLS' structure does have its attractions for franchise owners, it also limits the league's ability to attract the top players required to continue raising the quality of play.